My thank you to Keech Hospice
This is Jacob, my great nephew. He's an adorable little chap, a wise old head on young shoulders, and such fun to spend time with. He and his younger brother Milo, are the children of my niece Jen, and her husband Matt. I'll let Jen tell you someting of Jacob's life in her own words.....
'When Jacob was 9 months old we were given the earth-shattering news that he had a life-limiting condition, Mucopolysaccharidosis Type 1, otherwise known as Hurler Syndrome.
This is a rare metabolic condition that causes progressive neurological and physical symptoms and without invasive treatment, children do not live past early childhood.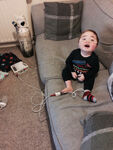 Jacob had to undergo a bone marrow transplant when he was just 18 months old. It was during this time that we first became involved with Keech Hospice Care.
When Jacob came home from the hospital following the transplant, his immune system had been destroyed. He had to spend a year in isolation whilst it recovered. It meant our home had to be kept as sterile as possible – and Jacob couldn't leave it. Not only that, we couldn't risk visitors for fear of bringing infection in with them.
Jennie, the play therapist, would come out to see us every week and spend a few hours giving Jacob a therapeutic play session. She even arranged for ducks to visit our garden so Jacob could feed them, to give him experiences he would otherwise be unable to have.
When he was finally well enough to leave the house, just before his 3rd birthday, we would attend the Tot's and Toy's playgroup once a week. We did this every week until he started school!
Jacob is now 8 and whilst our visits to the hospice itself have stopped (mainly due to Covid) - our support from the play therapists has been invaluable. Jacob was also diagnosed with Autism Spectrum Disorder when he was 5 and he struggles with severe anxiety and emotional/behavioural issues. He has regular online sessions with Jennie the play therapist to support his development through play.
Keech Hospice Care has supported us throughout Jacob's whole life. I know if we ever need anything from them, they'll do their utmost to help us. Jacob absolutely adores the play therapists and they've given him experiences we would have been unable to provide otherwise. They really have been a lifeline for us.
'
Jen Carter
I paint everyday folk, and for this family, regular visits to hospital, oxygen tanks, feeding tubes, spinal braces and the like, have been their everyday. I'm so in awe of this little family, their bravery and resilience. And
Keech Hospice
have been a major support for them during Jacob's life, so I have been wanting to do something to say thank you to them.
In June I am participating in
Surrey Artists Open Studios
and am donating 20% of all sales during that time to Keech. Plus I will be donating 100% of money raised from a project I am launching during the Open Studios called #MonochromeMugshots - painting approximately A6 black and white portraits for a donation of £75.00. Please message me if you would like further information, or see seperate page.
Donations can be made through my
JustGiving
page
https://www.justgiving.com/fundraising/SueRansleyArt